Reasons Why People Start Vaping
People start vaping for various reasons, ranging from health, saving money, to cut down on smoking, or to completely quit. While some smokers quit cold turkey, the evidence of them actually quitting for good without the use of a vaping device, NRT's (nicotine replacement therapies) and help from local stop smoking services is quite low.
The global vaping industry is estimated to be worth approximately USD 28.17 billion in 2023, up from USD 22.45 billion in 2022. The vaping industry doesn't show any signs of slowing down and popularity is increasing year on year.
Below we have outlined some of the most common reasons that people start vaping, so if you are thinking about ditching the cigarettes and making the switch to vaping we hope this article will help guide you in the right direction.
What is vaping?
Vaping is a term that is used for people who use vapes or e-cigarettes, inhaling and exhaling vapour into your lungs that contains nicotine (in most cases) and flavourings. E-liquid or vape juice is squeezed into the vape kit's pod chamber or tank, an atomiser coil (heating element) then heats the vape juice to produce a vapour. Vapour is inhaled instead of smoke that is far less harmful than smoking cigarettes.
Vape kits are battery-powered devices that closely mimic the action of smoking, but don't burn tobacco and do not produce tar or carbon monoxide, two of the most harmful elements in tobacco smoke. Instead e-liquid is used, made from propylene glycol (PG), vegetable glycerine (VG), nicotine and flavourings. Nicotine is inhaled in a vapour, rather than smoke. While nicotine is the addictive substance in cigarettes, most of the harm comes from the thousands of other toxic chemicals found in tobacco smoke.
We believe vaping is more than its definition. To us, vaping is turning your back on tobacco cigarettes and immediately reducing the health risks. Waving goodbye to the smell of smoke on your clothes and breath. Saving money you once used to spend on cigarettes, you can now spend on making experiences with your family. No longer putting your loved ones at risk of passive smoking. These are amongst the reasons we set up TABlites in 2011, to make a difference. With over a decade of serving the public we have amassed a wealth of knowledge to help you make the switch from cigarettes to e-cigarettes.
Why do people vape?
Vaping is safer than smoking
There's some confusion and misleading information circulating about vaping, but leading medical institutions including the NHS, Cancer Research UK and the British Heart Foundation follow a similar stance. Vaping or using an e-cigarette is far less harmful to your health than tobacco cigarettes and can help you comfortably make the switch from smoking to vaping, and can help you quit smoking for good. Switching from cigarettes to vaping can save you lots of money and your health can also benefit from switching.
The current best estimate is that e-cigarettes are around 95% less harmful than smoking. Public Health England
The British Heart Foundation says… "Smoking-related diseases account for around 100,000 deaths each year in the UK. Most of these deaths arise from one of three diseases: lung cancer, chronic obstructive pulmonary disease (COPD) and coronary heart disease."
Hydrogen cyanide, formaldehyde, arsenic, ammonia, tar, carbon monoxide. All these harmful chemicals can be found in combustible tobacco cigarettes. When replacing cigarettes with vape juice, none of these chemicals are present and vaping poses a fraction of the risk to your health.
E-liquids are blended with a PG and VG mix, both ingredients are found in many common food items.
PG (propylene glycol)
PG is a viscous, colourless and odourless liquid with a slightly sweet flavour. It is considered extremely safe, non-toxic and has no carcinogenic (cancer causing) properties.
PG is used in food products to contain moisture and works well to maintain flavour quality over longer periods of time. It is commonly used in food flavourings, food colourings, dried soups, soft drinks, ice cream, bread, sauces and cheese to name a few.
PG is used in e-liquids to provide a 'throat hit' to closely resemble the sensation associated with smoking, helping smokers comfortably replace cigarettes for vaping. PG also helps carry flavour and helps mix flavours together to provide multi-layered complex flavours.
High PG e-liquids due to their thin consistency provide less vapour clouds when compared to high VG juice. They also require less heat and power to turn them into vapour. PG vape juice (50% PG and above) are a great starting point for new vapers looking for a real smoking sensation.
VG (vegetable glycerine)
VG is a clear, odourless, sweet and quite thick liquid with a syrup-like consistency. It is a natural chemical that's derived from vegetable oils (coconut, soybean or palm oils), so is safe for vegetarians.
VG is widely used in food, cosmetics, and pharmaceutical industries. In food it is commonly used to help oil and water based ingredients mix together, adding sweetness and adding moisture to the final product. It is also used to prevent ice crystals from forming on frozen foods including ice cream and other desserts. You can also find glycerine in everyday items like toothpaste to help prevent the product from drying out and hardening.
VG is used in e-liquids to help create big clouds, bold flavours with a mild inhale. VG e-liquids are much thicker in consistency when compared to PG e-liquids and will produce large clouds of vapour. VG based liquids will require more heat and more power to turn them into vapour that can be inhaled. High VG juice is most commonly considered where there is a 70% VG ratio or more.
Nicotine
Cancer Research UK says… "Nicotine is the chemical that makes cigarettes addictive. But it is not responsible for the harmful effects of smoking. Nicotine does not cause cancer, and people have used nicotine replacement therapy safely for many years."
Whilst nicotine is addictive and keeps smokers going back for more, it's the thousands of other harmful chemicals contained in cigarette smoke that causes almost all the harm.
Flavourings
Many misconceptions about vaping flavours are that they will give you 'popcorn lung'. This common misunderstood view came about because some flavourings used in e-liquids to provide buttery and bakery flavours contain the chemical diacetyl, at very high level exposure has been associated with the serious lung disease bronchiolitis obliterans.
The condition gained its name because it was initially observed among workers in a popcorn factory.
However, diacetyl is banned as an ingredient from e-cigarettes and e-liquids in the UK. It had been detected in some e-liquid flavourings in the past, but at levels hundreds of times lower than in cigarette smoke. Even at these levels, smoking is not a major risk factor for this rare disease.
For more details on myths surrounding and what is and isn't true check out this blog from the UK Health Security Agency.
When it comes to vape blends the range of flavours is literally endless. With flavours ranging from; mint, menthol, citrus, mixed fruit, dessert, soda, candy, berry, shisha flavours, tobacco, custard, coffee, yoghurt, donuts, cookies, aniseed, ice cream, jam, bubblegum, cotton candy, and the list goes on.
Whether you are using nic salts, high VG, high PG, 50/50 or shortfills, we can guarantee the e-liquids we stock are blended from high quality ingredients, are fully TPD compliant and MHRA registered.
Vaping closely mimics a real smoking sensation
The sensation of vaping closely replicates the feeling of inhaling on a cigarette. The propylene glycol combined with nicotine in e-liquid is designed to provide a throat hit in the flavour and strength of nicotine you choose. As well as the feel of nicotine on the throat, vaping also offers the routine of hand to mouth action that most smokers miss when trying other nicotine replacement therapies like nicotine patches or nicotine gum.
Vaping offers an enjoyable experience that replaces the craving for smoking a cigarette.
Vaping is cheaper than cigarettes
We all know the astronomical price of smoking combustible tobacco cigarettes. The Chancellor Jeremy Hunt has recently announced that for the 2023 Budget, he would raise tobacco duty for the first time since October 2021. Soon the average price of tobacco cigarettes will increase from £12.84 to a staggering £14.73 (a rise of £1.89). That's nearly £15 for an average pack of 20 cigarettes. There is no better time to make the switch to vaping.
In contrast, the price of vape kits and e-liquids has dramatically come down in price, you can now pick up many vape starter kits and pod system vape kits like the Vaporesso XROS 3 and Uwell Caliburn AK3 for under £25 (e-liquid included). You can even get excellent entry level kits like the Aspire Gotek X and Elfa Pod Kit by Elf Bar for under £10. High quality vape juice flavours have also come down in price, you can now grab them for as little as 3 for £10 in our TABlites multi-buy vape deals.
Entry level low powered vape kits are an ideal place to start on your vaping journey and offer an enjoyable vaping experience without having to invest loads of money to get started. All the vape fluid flavours we carry are sourced from the most respected manufacturers and are fully TPD and TRPR compliant.
Cancer Research have created an infographic comparing the cost of smoking vs vaping based on a 3 month period, on average in Great Britain.
People who smoke spend around £475 on cigarettes
People who vape spend around £180 on e-liquids and equipment
Smoking cigarettes costs more than two-and-a-half times as much as using e-cigarettes.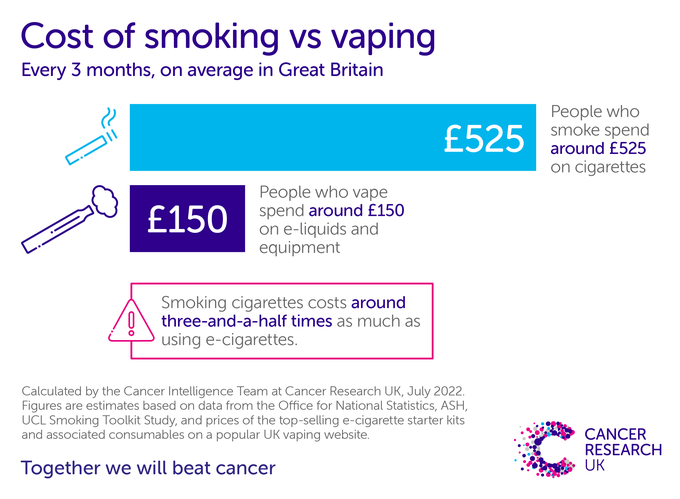 Vaping is less harmful to others
Cancer Research UK says… "There is no good evidence that second-hand vapour from e-cigarettes is harmful. As vapes are still relatively new, we can't be sure there aren't any long-term effects to people who breathe in someone else's vapour. But this is unlikely to be harmful. Passive vaping is not the same as passive smoking. This is because e-cigarettes do not contain tobacco." 
Large variety of vape flavours
There are virtually endless e-liquid flavour options available to try. With some of the most popular blends being; tobacco flavoured e-liquids, menthol, fruity, candy and fruity ice. There are also some unusual flavours like; Strawberry Jam and Clotted Cream, Blackcurrant Aniseed, Lemon Drizzle Donut and Caramel Cream Cookies.
Whilst many new vapers start their journey with tobacco and menthol/mint flavours to replicate the flavour of smoking cigarettes as closely as they can. There is a world of undiscovered vape juice flavours and strengths. It's impossible to run out of flavour options, making the journey through vaping as exciting as ever.
As the vape world constantly pushes forward with new styles of e-juice and flavour combinations, there is literally always something new to try. At TABlites we are committed to bringing you the freshest e-liquid releases so you can continue to explore new flavours in search of your all-day-vape. Vaping has never been so exciting and varied, compared to traditional cigarette smoking.
No bad odours
The burning of cigarettes gives off horrendous odours, that you start to really notice when you no longer smoke. When it comes to vaping, e-liquids are heated by battery powered vape kits, they are not burned so they will not cause bad breath. If anything, vape flavours give off amazing scents. If you vape Strawberry Donut flavour e-juice, your breath and room will most likely smell of freshly baked strawberry donuts. The same goes for menthol flavours, giving a cold invigorating chewing gum-like sensation in the mouth.
If your e-liquid gives off any smells when vaping, the scent in the room disappears quickly and will hardly be noticeable. High VG based e-liquids will provide larger clouds of vapour, so if you want a discreet amount of vapour from your device we recommend using high PG, salt nicotine and 50/50 PG/VG eliquids.
If your vape tastes and smells slightly burnt, try cleaning the vape pod or tank and replace the coil.
How many people vape in England?
Vaping products have become the leading stop smoking aid in the UK.
Stop smoking services in 2020 to 2021 found that…
Quit smoking attempts with a vape product were associated with the highest success rates, 64.9% compared with 58.6% for attempts not involving a vaping product.
Vaping can play a vital role in reducing the huge health burden caused by cigarette smoking. 
Smoking prevalence in England in 2021 was between 12.7% and 14.9% depending on the survey, which equates to between 5.6 and 6.6 million adults who smoke.
Vaping prevalence in England in 2021 was between 6.9% and 7.1%, depending on the survey, which equates to between 3.1 and 3.2 million adults who vape.
The NHS says… "You're roughly twice as likely to quit smoking if you use a vape compared with other nicotine replacement products, like patches and gum."
If you are looking to make the switch we are here to help you on your vaping journey. Take a look at our Store Locator page to find your nearest TABlites vape store, or visit tablites.com for all your vaping needs. If you have any vape related questions please Contact Us, we are always happy to help.